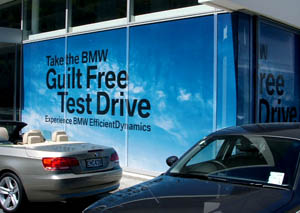 One-way vision film opens up a new world of promotional opportunities by turning windows into premium advertising space.
The film allows graphics one side and a clear unobstructed view through the glass on the other. Virtually all glass surface now have potential for maximum visual impact, crating an unlimited variety of advertising and promotional applications.
One way vision film is placed on the outside of window. Customers from outside can see the images and the employees inside the store can see out. It is great for full window advertising, blocking UV rays, and protecs your privacy.